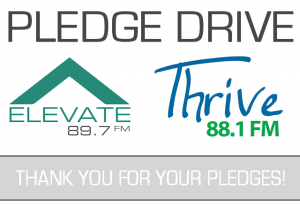 Pledge Drive may be over, but you can still help! Your tax-deductible gift of any amount is greatly appreciated and helps this ministry continue to make an impact for the Kingdom and the community! To support Elevate FM, visit the donate page.
---
Elevate FM broadcasts the hottest Christian hits from tobyMac, Switchfoot, Needtobreathe, Plumb, Britt Nicole, and dozens of others!
With uplifting, encouraging music 24/7, Elevate FM can be heard throughout western Kentucky at 89.7 FM and on your mobile device with the TuneIn Radio App.